Thúy Nga Video 19 - Paris By Night 7
First video filmed in front of a live audience - Thúy Nga Paris 1989
- About the Cover & VHS -
*The pink cover was a reprint from what I can tell from the other prints
* I've never seen the purple cover in person, but I've seen a light blue cover…same design and pics.
* Tuan Vu, Hoa Mi and Linda's photos are completely different.
* Back cover has picture of two models in ao dai from the fashion show and a picture of The Bolero Band
* Reprint only has a picture of Cong Thanh & Lyn on the back.
* Another way I know that the tape is a reprint is from the gold Thuy Nga printing on the VHS tape.
* Also, the fonting is completely different for TN Video and PBN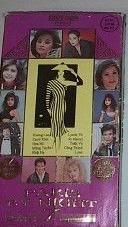 Early cover print
Paris By Night Intro
- different from the videos before it - no listing of singers that would be in the video.
For those that don't remember or weren't even born yet, PBN use to have intros where a music track (example: as song by Kim Anh or Huong Lan) is playing in the background with a slide of all the singers that would be in the video.
(5 pictures combined as one - tried to show the entire studio audience)
**The studio used for this filming is an actual facility fit for an audience as you can tell from the comfy (movie theater like) seats. Though there are two permanent cameramen on stage, the audience will still be able to the performances that are center stage.
After the small intro, the camera panels from the patient audience applauding the Master of Ceremony (Jo Marcel) appearing from the back-stage.
1. Gặp nhau - Hương Lan & Tuấn Vũ
Slow and steady opening - main reason: first time duet between two singers at the peek of their carrier. Not much movement from both singers just plain awkwardness, Huong Lan gazes into Tuan Vu as he stares off into the audience.
2. Oh! Carol - Carol Kim
Upbeat bebop song accompanied by three dancers. Carol Kim rushes from the center door to the second set with a microphone in her hand. This is her second and last appearance since she sang her disco song "Stop The Rain" in PBN 6.
3. Sầu lẻ bóng - Mộng Tuyền
Former 60s-70s movie actress, and Cai luong artist that went by the name of Kim Loan before changing her stage-name. She is quite modest during the interview when the host complements her, she did seem a bit nervous in-front of the cameras and live audience. This track I believe was never recorded into any CD, the same arrangements was used from Phuong Mai's version which was recorded some years before.
4. Tình yêu thủy thủ - Công Thành & Lyn
Hilarious interview, Cong Thanh does most of the talking until Jo Marcel asks "What do you think about your performance just now?". Lyn out of nowhere says "hết xẩy" and the audience goes wild.
5. Tóc mây - Họa Mi
Typical Hoa Mi performance a lot of grace and elegance makes you feel a bit classy. But the ao dai was a no-no for me elephants can paint better.
6. Thành Lễ Fashion Show
After complementing Hoa Mi on her dress, Jo Marcel uses that as his transition in using art in fashion.
The designer in the early shows would always be sitting in the front seats near Mrs. Thuy, and would stand up from the audience to walk towards the stage when introduced.
Wow! for something that was 20 years ago some of the fashion is still fresh even for today's modern world. The type of design might be out of date, but the colors are still in.
7. Cô bé ngày xưa - Tuấn Vũ
Tango song, two dancers on the side - during his interview, the host asks if he's single and he says the lamest thing ever that I'm sure that the audience thought the same.. "If you want to date Tuan Vu send me an application"
8. Căn nhà xinh - Nhật Hạ
This song also goes by the name "Mơ ước người yêu bên tôi" It's a cover of a Japanese song entitled "Anita" which won the Asia Music Pop Festival back in 1972, Thanh Lan was the first to record the Vietnamese cover. Back to the performance… Nhat Ha for those too young to know, she was one of many young Vietnamese youth icons of the 80s and early 90s always looked like a portrait in all of her videos.
9. Hãy vui đi anh (I Wanna Have Some Fun) - Linda Trang Đài
"****o, It's me again. Don't you know it's hard to keep a good woman down? But then again maybe that can be fun." Enjoyable performance accompanied by three dancers in white Ts and jeans and two backup vocals on the side.
10. Cây đàn bỏ quên - Hương Lan
The most notable song for its guitar intro that has been attempted by many amateurs over the years even on YouTube. Huong Lan's interview is quite long since there is a transition where Huong Lan introduces Jo Marcel's performance after a question about the romanticize performance of a singer and romance in reality.
11. Thôi - Jo Marcel
Along with The Bolero Band playing for the first time on Thuy Nga Video, this performance was also enjoyable. This guy has some moves…body movements I should say, he gets into the music.
Editing comes in handy at this point - when the band takes their instruments backstage.
12. Lối về xóm nhỏ - Công Thành & Lyn
Cute song - during the interlude Cong Thanh introduces everyone that was in the show, as one by one they walk from the center door to the second exit of the stage.
Ending everyone comes out from backstage.